Good morning. What a lazy, contemptible weekend I just spent. Much like the rest of my fair country, I honored America's dead soldiers yesterday. Different folks have different ways of showing their gratitude, and I am no different.
Get that squirrel a flak jacket, an assault rifle, and ship him off.
I sat around like a bag of pudding. I spread out over my furniture and let my limbs splay out. I made no effort whatsoever to support even one ounce of my flesh. My arms dangled from the sides of my plush chair, my head lolled back against the cushion, and my eyelids only opened halfway. Occasionally I made the effort to push a button or two on my remote. Several times I napped.
I watched sports. Nothing says "thanks for your noble sacrifice" like nine straight hours of baseball. I threw wide the windows and the perfect weather swept in, constantly refreshing me. I was still shower fresh halfway through the second game. I felt I was a gleaming infant. Well, barring the occasional profanity I muttered at the swarthy baseball umpires inside my television. I suppose I was more like a gruff talking infant with facial stubble and a soggy cigar. Sort of.
Finally, I made food. I boiled a few pig necks and made vegetable soup with them. I made a pepperoni pizza with six cheeses on premade crust. I was pleased with myself. Of course I chose to ignore the few nitpicks about the pizza and soup, comforting myself with the thought that I made the effort, and therefore I get things my way. Complainers can go eat dry toast.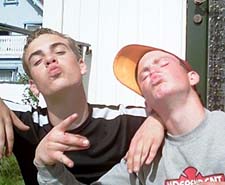 My next door neighbors celebrated differently. They began on Monday night at 10:30pm. They grilled hamburgers, smoked blunts, blasted Cypress Hill, threw down slang, and threw up gang signs like they just didn't care. It always makes me happy to see docile boring suburban white children imitate music videos. It's even better when they get tattoos on their knuckles that read BORN 2DIE. These kids are the same as the role-playing types, except these ones haven't figured out they're playing roles yet. They're not smoking crack, throwing dice, or bustin' caps yet, but I can dream. I managed to refrain from starting trouble. I wanted to hide around the corner yelling "Holla!" while they zipped around looking for the perpetrator, constantly tripping over their low-slung pants.
Okay, time for me to get some work done. Time to purge all the tasks that have built up like infectuous diseases in a humid asylum. I really don't feel like interrupting my lazy streak, but I have no choice. It's gonna take a lot of chemical sanitzer to erase this scum:
Not my actual job. I am not a custodian. No, I don't know what the purple stuff is, so don't ask me.
11:30 AM - Bottle Rocket Fire Alarm