I just moved to Palatine. Left my furniture behind. Very Spartan. No shower curtain, just baths now. No money, no toilet paper, so lots of baths. (and one ruined t-shirt) No microwave, oven and stovetop out of operation, so all food is cold. Very Spartan. Not much to say, really, although I expect to be composing words with frequency again soon.
I had this picture mounted on red paperboard in the bathroom at the ballet loft the whole year I was there. It's by Junko Mizuno. She's one of my favorite artists. It drew a few comments, but fewer than I expected. Sadly.
I found it online today after searching and failing to find it for over four years. This thrills me.
Menstrual Dreams: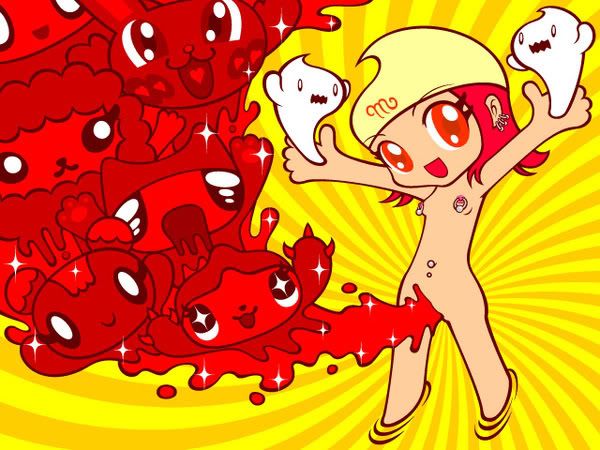 5:18 PM - Bottle Rocket Fire Alarm


10 :: - post comment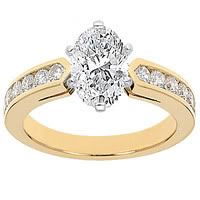 I remember that cold winter day you walked up to me in the bookstore and asked what I was reading. When I saw you (your red hair, your green eyes, those freckles) smirking at me, it took me a moment to regain my composure and stutter out the title. (A Prayer For Owen Meany, by John Irving) Of course I bought it. I still have that copy. It's one book I'll never give away. Not now. Not after you.
When I think about those first few coffee dates, the two of us sparring verbally, (upon the merits and flaws of formal education, isolationist foreign policy, mixed drink recipes) I feel hollow now, knowing that there will be no more brilliant conversation.
The first time we made love, you were so happy that I went down on you first. You said most men couldn't or wouldn't at all. I remember laughing right into your babymaker when you screamed "GGGGREAT!" like a feminine Tony The Tiger. You clamped your thighs on my ears and told me to stop laughing and get back to work. (all the while laughing yourself)
Towards the end of that beautiful lust fucking, when you were exhausted, the only sounds you could make were breathy little moans. I loved those. After we came, we laid there together, our eyes locked, me listening to you taking those deep, slow breaths, reveling in the afterglow, you stroking my hair and giving me little kisses, making our noses bump together. (I knew I was falling for you then, just like that)
I lived for those moments.
Maybe it was too perfect. I remember walking the corridors of the mall with you, feeling like the king of the world, the luckiest man, knowing you felt like royalty, too, when I had my arm wrapped around your waist. You in your scarves and gloves and goofy leggings all the time… you were so bright, so vivid, so blindingly beautiful in your own loud garish way. Sometimes so beautiful it hurt. That was a good hurt. (today I know only the bad)
Even your parents liked me, despite my dim future prospects and haphazard ways with money. They trusted your judgement, without question, knowing that if you'd chosen me, I must be good. Like you. You were so damn good.
I loved you even more for your frailties. You were convinced that you were bloating out, getting fat, going mondo porkwhale on me. I never thought that. I even liked the little bit of chubbiness on your belly. (which was nowhere approaching fat, trust me) I knew you'd work it off when winter ended, (with your strange love for jogging) but you were so obsessive about dieting, so concerned about looking good for me. I loved you for that. I even ate tofu and salads with you for a month, just to humor you.
I would eat tofu for the rest of my life to have you back. Hell, I would eat nothing at all if that's what it took.
There was that night the thermostat broke and we couldn't turn the heat off. It made us loopy, delirious, maybe a little deranged. When we had sex on the couch and you started screaming about burning calories and fucking faster and harder, until finally you started reciting the food you'd eaten that day and shouting "burning it off, burning it all off, oh yeah, burn burn feel the BURN!" I started laughing. You always made me laugh during sex. You made everything more fun.
I wish I could go back in time and tell you to watch out for that patch of ice. I wish I could tell you to drive more slowly, more carefully. I wish I could just ask you to leave work five minutes earlier, or later, and maybe your car would never have ended up underneath that truck. (did I lose you to bad luck, for no reason at all, or is there such a thing as fate?)
Now I'm all alone. Again. Everything the way it was, empty and pointless. Now though, it's somehow worse. What's the saying? Oh yeah. You don't know what you've got until it's gone. (that's the one)
I never got to ask you. I was summoning up the courage, bracing my nerve, orchestrating the best possible moment and situation to spring the question. I wanted fairy tale perfection. (now I know I waited too long)
Now it's just me and this ring. Now it's just me and my tears.
I wish you could find a way back to me. I need you so, so much right now.
3:04 PM - Bottle Rocket Fire Alarm


12 :: - post comment