I was forced to go live under my parents' roof for a six month period when I changed jobs two years ago. This indignity was compounded by several humiliating factors: my little brother now owned my former bedroom, I had little or no money, it was the peak of summertime, and we had fleas.
I hated this. The air conditioning was rarely turned on since Dad was also unemployed. It was very hot in the house. The only way for me to get relief was to lay on the cold concrete of the basement floor. I even slept there sometimes, right next to the washer and dryer. I got the occasional spiderbite when I lay there, but that was cake compared to the insect assault I was soon to endure.
Dad drank bourbon. Due to this hobby he slept in the living room while Mom slept upstairs. He'd hang out the back sliding door all night long, blowing cigarette smoke, ashing all over the light brown deck. As the night wore on he'd shed articles of clothing one by one, until finally at 1am he'd pass out on the back porch in his underwear with a cigarette filter smoldering between his scarred fingers. Sometimes I'd find pizza crusts in the toaster or urine in the refrigerator if he'd had a good night.
One day a possum, raccoon, or some other wild gamey marsupial nested itself underneath the deck. The furry creature brought a severe flea infestation along. The deck was just a wooden platform standing a foot above the ground, more of a porch than a deck. But it was slatted, and insects and other assorted pests could pass through it easily.
I began to notice a problem when I was watching an inane television show one steamy July day. My legs felt tingles. Little pinching nerve twitches. I couldn't see why. At first. Then I saw a few small holes in my right ankle. The holes grew swollen pink rings around them. Then they glazed over with a translucent apricot colored jelly that dried and encrusted like mucus.
And they itched. Oh, how they itched. I scratched sizable chunks of flesh off my legs.
I slowly lost my ability to remain calm. Over a period of two weeks, I finally began to figure out that I was getting bites from the floor, not from an airborne pest like a deerfly or mosquito. When I slept on the family room floor they bit my ass and shoulders, too.
I lost my composure, slowly but steadily. I began to stand in place and stare down, obsessively trying to locate the cause of my welts. Finally I saw the hopping black specs. Loathing and disgust welled up as I began to yell at my father about the little ebony sesame seeds with grapefruit spoon teeth that cored into my legs and sucked my blood.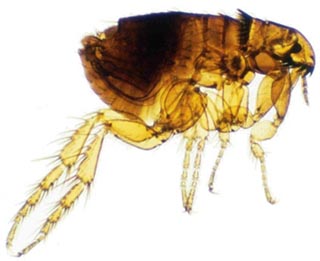 Dad showed me his legs. They were much, much worse. He'd been drunk on the patio many times. His legs were freckled and bloody.
I spread the news. My mother did not believe me. She's a sweet woman, but she's the type to deal with a problem by saying nice reassuring things and waiting for it to go away. The third day she tried to tell me it might be mosquitos I forced her to look at my legs. I screamed at her. I swore. I was mean. I had to get through. My sisters looked at me like I was a monster. How could I be so vicious and horrible to sweet old mother? Did I want to be just like my father?
My younger sister eventually recognized reality. She had a couple bites of her own. She promptly moved out to her boyfriend's house, wrapped all her exposed sheeting and clothing into sealed bags, and quarantined herself from the rest of us. My mother and little brother had no bites. They were immune. They had the wrong blood flavor for flea suckling, or a natural anti-flea musk about their feet.
I became increasingly volatile. I wore three pairs of socks at once. I used rubberbands to seal my pants to my ankles. I refused to sit down. I stared at the carpet all the time. I took three scalding showers a day. I scratched. I bled. I shaved my legs from the knees down. I cried. I did research.
Finally, one day, I kicked everybody out of the house. I closed all the doors and windows and I fumigated. I put bug bombs in every room. Nobody was allowed back inside for five hours. I went back in first, and I forbade my father from opening the back door ever again. I forbade him from inviting those horrible little fucking monsters back in. Against my mother's wishes I allowed smoking inside the house. I knew she suffered from asthma and weak lungs, but she'd survive longer with that problem than with a twitching angry homicidal son with bulging eyes and bloody legs.
The house was safe again. Then we all got evicted.
7:26 AM - Bottle Rocket Fire Alarm