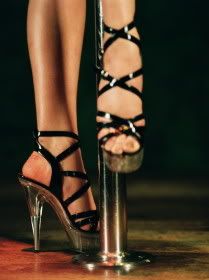 I'm watching titties jiggle up here in old Melrose Park. I'm inside a small private club, a brick rectangle with no windows and single occupancy washrooms. The stage has two poles, two spotlights, one disco ball, and about fifty drinking men surrounding it, the lot of them shifting uncomfortably in cheap plastic chairs.
I'm standing up at the periphery of the horny crowd. The decent seats are taken, and I don't mind. I paid forty bucks to get in, and I intend to drink at least that much in cheap beer at the open bar. Small plastic cups won't deter me. I'll just stay on my feet halfway between the stage and the bar. Get myself an eyeful and a bellyful simultaneously.
Besides, there's a mirror covering the wall behind the bar, and I can ogle the tap girl's naked ass while she fills my cups. Hey, I'm nearsighted.
Hey, look at that! The chubby Japanese stripper just pinched that guy's nose shut with her crotch. So tight his blushing cheeks are stretching towards the center of his ruddy face. That's good entertainment right there! This is not as impressive as the time I saw a stripper launch a dildo ten feet away with a crotch clench, but no matter how underwhelming the feat, vaginal aerobics are always a joy to behold.
It's an hour later and the DJ is making announcements. The main stage shows are nearly done. Now, he breathlessly intones, is time for the private dances. Get the up close and personal attention our girls have lathered on the bachelor all night!
Wallets are scoured. Middle-aged men with receding hairlines, expanding waistlines, and yellow teeth are calculating how many minutes can be bought- minutes of naked female youth writhing upon their laps, contorting and moaning and playacting. Images and moments to be saved, stored in the imagination for the following month's morning soapoffs.
Not me. I'm better than that. I'm not married, middle-aged, or dishonest enough with myself to properly enjoy a lap dance. I can't get past the fact that the attention is false, that the beautiful woman simulating orgasm before me is only pretending. Most guys can ignore the big picture, can forget that the woman has no interest in him. To a stripper, you're just a wallet. The last time I had a lap dance, I couldn't enjoy it. A ringing indictment looped in my thoughts: "She's lying to me. This is pretend."
When I leave a strip joint, I'm all loneliness and blue balls. I feel cheap and cheated and less than human. Apparently, I'm the only one. People say I think too much. They say I take things too seriously, that I'm uptight, or worse, a hypocrite.
All true, I know.
Still.
No lap dances for me tonight. Even if I could freeze my mental anguish and enjoy it, panting and dumb, $20 a song is farther out than I can swim.
Ten drinks later and a stripper is grabbing me by the hand, leading me into a corner. I shouldn't follow her. I know better.
3:51 PM - Bottle Rocket Fire Alarm