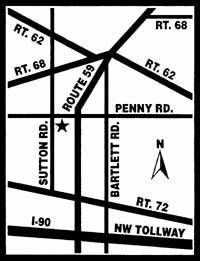 12/21/06
"Karaoke's over. Finished. Kaput. It's ten to four. Get the fuck out."

The surly bouncer grabbed the half full beer from my clammy grasp and pointed at the door. The man obviously derived glee from hostility. He was short, fat, and wore a t-shirt with a motorcycle on the front. Or, in one word: douchebag.

With mere hours before dawn, it was time for my group to filter out to vehicles, time for us to fumble with keys, to gnaw upon handfuls of mints, and to close one eye and weave homeward.

I hadn't arrived until three, and since I was nearly sober and perfectly capable of navigation, I decided to deliver one extremely wasted soul to his front door. No driving for him. No way, no how, not gonna happen, pass the potatoes, please and thank you.

He didn't know where to find his home. He just moved there. We got lost in the woods of South Barrington, the dark twists of Penny Road smashing my mental compass.

"You need me to pull over? You gonna splash out?"

"Nuh-nnooooo…. I neeeeevvver puke. I haven't puked in six years. Oh man I'm so drunk. Thanks for taking me… taking me...ulg.

He rolled down the window. Icy sharp air flooded the car, slapping me in the face.

He broke his six year puke-free streak with a barrage of tepid beer and chicken wings, which streaked the side of the silver G6 I was driving.

"Iz… iss all outside your car. I dint get any in."

He kept rolling the window up and down, effectively squeezing his regurgitation down where the window slots into the door. I saw chicken shred and potato chunks inside the car. His accuracy and reportage were not be trusted.

After we finally found his abode I inspected the car. Puke painted the exterior all the way to the back bumper. Bile trickles dripped from the ceiling onto the passenger seat.

Fuck it, that's what rentals are for, right?

12:57 PM - Bottle Rocket Fire Alarm