During my drive this morning I spied before me a green Grand Am with the license plate "SKUBY DU." In the back window sat ten or twelve plush toys in disturbing poses and guises. One Scooby Doo was dressed as a greaser, maybe the Fonz or James Dean. Another was a doctor. Another was Hawaiian. No punk mohawk Scooby, thankfully. What kind of adult buys vanity plates and decorates his car in the theme of a seventies cartoon?
I had to know the sex, age, and disposition of this strange driver. From behind, all I saw was the silhouette of a wide head with immobile dome hair. I maneuvered my way forward. It was an unshaven redhaired man wearing blackrimmed Velma glasses. He leaned forward over the wheel like a nearly blind grandmother terrified of raining anvils, yet his driving was superb, fast, loose and aggressive. He was about thirty, clad in slacker garb. A ragged t-shirt, a hemp necklace, a dangling cigarette.
I wondered what his home was like. Did he have a blow-up Daphne doll in his closet? Does he have a mystery van shower curtain? Certainly he wore themed boxers, pajamas, slippers, and tucked in under the official bedsheets every night.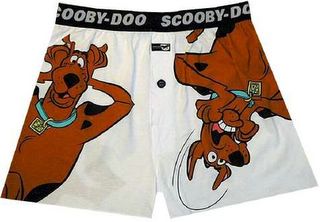 Does he tell people with maddeningly frequency that Scooby is short for Scoobert? Do his friends call him Scoob? Scoobs? The Scoobster? No, they call him Shaggy for sure. The pot and the red hair are a dead giveaway. One thing was plain: this man smokes a lot of marijuana. Any adult that has an unheathly interest in an old cartoons falls into two categories: the stoner or the geek. The geeks latch onto cartoons like Transformers, Voltron, and the Thundercats. The stoners are stuck with shit like Scooby Doo, Fraggle Rock, and The Smurfs.
I actually liked the Smurfs, especially when they time travelled. I like time travel. It's cool.
I could just see this guy racing home after a long day working at the head shop to watch his favorite episode from season three while smoking a hookah. I can see him grinning through his fishlike expression while he exhales smoke rings he calls "the collar manuever." I can see his adam's apple bobbing as he recites the dialogue on cue. I can see his simpering jello eyes glisten and glaze as the weed takes effect. I can see him imitating Scooby's bark between shoveling handfuls of Tabasco Cheez-Its into his mouth. Cheez-its he gleefully and obnoxiously refers to as "scooby snacks" when he offers them to his deadbeat washed up stoner buddies. I can almost smell the patchouli. I'll bet this guy has a unifying theory of Scooby Doo and Bob Marley. I'll bet his jokes all suck.
I always hated that fucking cartoon.
12:20 PM - Bottle Rocket Fire Alarm